CREDIT CHALLENGED? Need a second chance? We have very nice AUSTIN APARTMENTS that are easy to qualify for. We know which Austin Apartments accept bad credit, if you have been denied and lost money, STOP! We can help!  We have the best apartment database in Austin that provides you with pictures, floor plans, and maps.

                        BAD CREDIT APARTMENTS  AUSTIN TX

       WE CAN WORK WITH CREDIT, RENTAL AND BACKGROUND ISSUES!

Our area of expertise includes ALL PARTS of Austin TX as well as the suburbs of Round Rock, Pflugerville, Cedar Park, Georgetown, Hutto, and Leander Texas. One, two, three, and four bedroom apartment homes ranging in square footage, location, price in all areas

of town.

           BAD CREDIT DOESN'T MEAN YOU HAVE TO LIVE IN A BAD APARTMENT!

            AUSTIN APARTMENT BAD CREDIT SPECIALIST!

We have been assisting Austin's renters with a completely free service now for over 10 years!

We feel very confident about my knowledge so if you are serious about your move to Austin please allow me to find you the best apartment for your needs.

All about Austin Apartments & Our FREE Apartment locator service!

Free Austin apartment finder & Austin apartment locator service, finding great apartments in Austin TX including Round Rock, Cedar Park, Leander, Pflugerville & Georgetown Texas. Our Austin apartment finders know the Austin area, we know major employers, we know the schools, and we know that we can find you a great deal and the perfect apartment in Austin, TX!

Instead of picking up an apartment guide call us!

We are a full service Austin apartment locating service, the apartments fax and email us many times throughout the day. We are local, we know Austin and we can help!

We are a completely free service to you. A common question I get is How do you get paid? In Austin, TX the apartment industry is so large that apartments have agreed to pay us a commission from there advertising budget. That is why I feel this is such a great service we help each other out. : )

Our experienced team of Austin Apartment Locators are all licensed real estate agents will work hard to find that special place you are searching for. Those apartment finder books are always out of date with prices and availability and they only show 25% of the apartments out there!

So called online Internet databases that allow you to search on your own, again...ONLY SHOW SOME OF THE PROPERTIES!

If you don't want to miss out on the best deals to be found...then please call me and let my Austin apt locator experience find you that special place!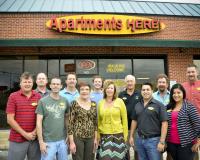 11011 Research Blvd #200  Austin TX 78759

                   Call Now  512 291-7368

             (512) 291-7368

  Apartments HERE! LLC License 608841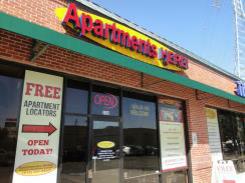 BAD CREDIT APARTMENTS  AUSTIN TX